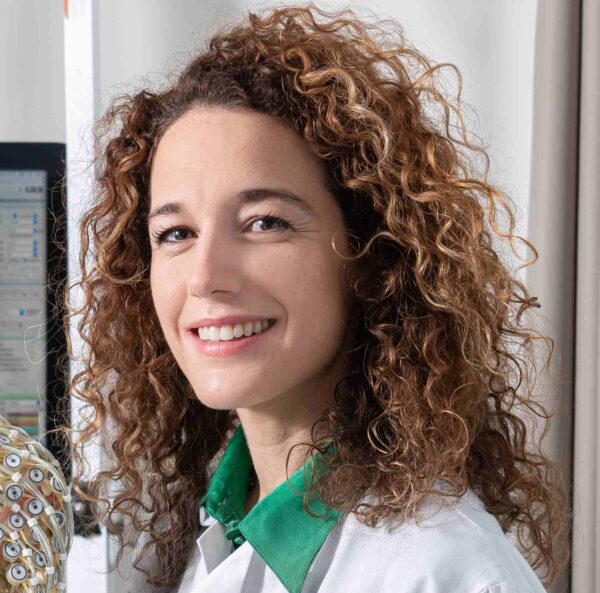 Groep(en)
Contact
Francesca Siclari
Head of department
Over Francesca
Francesca Siclari obtained her medical degree from the University of Geneva, Switzerland in 2005 and completed her postgraduate medical specialization in neurology and sleep medicine at the University Hospitals in Lausanne (CHUV) and Zürich (USZ). Between 2010 and 2013 she worked as a postdoctoral researcher at the center for sleep and consciousness of the University of Wisconsin, US. In 2014, she returned to the University Hospital in Lausanne, where she co-directed the Center for Investigation and Research on Sleep between 2018 and 2022. She joined the NIN as a group leader in 2023. She won competitive career grants including the Ambizione (2017) and Eccellenza Professorial fellowship (2021) of the Swiss National Science Foundation, as well as an ERC-Starting grant (2021).
Francesca Siclari's research focuses on the neurophysiological correlates of dreams and other forms of mental activity during sleep, using high-density EEG recordings, evoked potentials, serial awakening paradigms and pharmacological manipulations. The overall aim of her research is to understand how the brain generates sleep-related conscious experiences in both physiological and pathological conditions (sleep disorders).
Nevenactiviteiten
Invited Professor position at the University of Lausanne, Switzerland
Steun ons werk
De Stichting Vrienden van het Herseninstituut ondersteunt baanbrekend hersenonderzoek. U kunt ons daarbij helpen.
Steun ons werk